Commemorative Brick Program


You can honor a Marine by engraving his or her name on a brick
to be placed along the trails in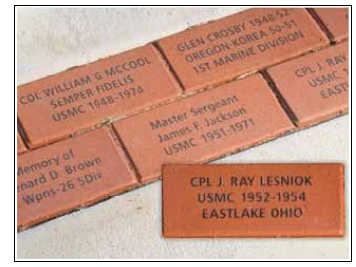 Semper Fidelis Memorial Park.

Please enter below the inscription you wish to have engraved on your brick. Each brick may include up to three lines; each line may contain up to 20 characters – including letters, punctuation and spaces. (Punctuation marks and symbols found on the standard QWERTY keyboard may be used.) Each line must end with a full word or name. Words will not be hyphenated or continued onto the next line. We recommend appropriate spacing for the most aesthetically pleasing inscription.

Bricks will be installed in the order in which they are received. Bricks purchased separately may not be sited next to one another.
You will receive a proof copy of your inscription before it's engraved.